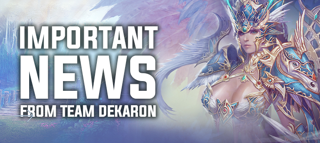 treasures
Break the krystals and claim your awards!
wings
mounts
costumes
gems
emblems
pet eggs
RARITY
Karen's krystals contains items with 5 types of rarity, ranging from Normal to Diamond, which features the most EXCLUSIVE costumes and prizes.

LEGENDARY KRYSTAL EXCHANGE
If you get 5 items from the Krystals that you do not want, turn them in for something better! You can exchange 5 prizes in your web-inventory for a special Legendary Krystal. It offers not only much higher chance at Top-tier prizes, and sometimes exclusive Costumes as well!
UNLIMITED STORAGE
Every item that you win goes to "My Storage" (Not the Dekaron in-game inventory).
From your storage, you can choose one of the two options:

(A) Send the items to your Characters ingame via a Mailbox
(B) Exchange items for Legendary Krystal

The inventory of "My Inventory" is unlimited, and items in the my inventory
have no expiry date.
SENDING PRIZES
TO THE BANK
- The number of sending items are unlimited, but only up to 5 items may be sent each time.
- Actual transfer may take up to 5 minutes to complete.